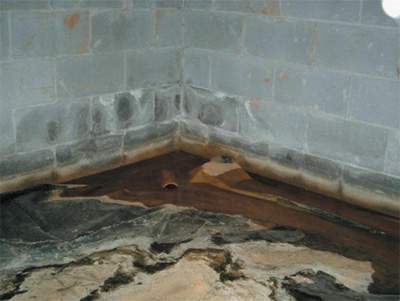 If you have a wet basement, act now by contacting the City Wide Group, your wet basement professionals. It takes an experienced expert to diagnose and repair your wet basement. The City Wide Group has over 50 years continuous performance in repairing foundation and wet basement problems guaranteed.
A wet basement begins long before you actually see that distressing trickle or flood of water across the floor. Early signs are staining on the walls or floor, efflorescence or mineral crystals on floors or walls, and visible cracks in poured or block foundations. One of the earliest indications of a wet basement is the noticeable smell of dampness and mould. This will increase as long as you do not make repairs to your wet basement. Beware! Mould presence can spark new, or exacerbate existing, respiratory conditions among family members.
A wet basement will always get worse. Once water has established a path to enter your home it will enlarge that path through hydrostatic pressure. The sooner you act when you discover a wet basement, the better. Those who delay may face health problems, damaged items in the wet basement, and deteriorated interior finishes. Left long enough and under certain conditions, a wet basement can threaten the structural integrity of the foundation. Don't delay; call the City Wide Group today for your free estimate.