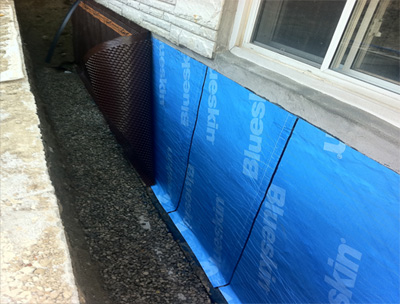 When you need basement waterproofing expertise and experience, the City Wide Group is the company to contact. Basement waterproofing is not a construction process for do-it-yourselfers or fly by night contractors. The City Wide Group guarantees the highest standard of design, construction practice and technologically advanced basement waterproofing materials for your home.
The Nagging Problem
Basement waterproofing becomes necessary whenever dampness or water is entering the house through the foundation. Clogged existing weeping tiles, deteriorated or misdirected gutters, or cracks in block and poured concrete are among the causes of water leakage. City Wide Group expert inspectors will correctly diagnose and engineer your permanent basement waterproofing solution.
Your Permanent Basement Waterproofing Solution
Call City Wide Group for your free estimate and we will determine the source of leakage and design the best basement waterproofing solution for your home. All our basement waterproofing work receives a fully transferrable, lifetime guarantee. Below is an outline of a typical installation which would be customized to suit your unique circumstances.
Prior to excavation, all utilities are contacted by us and a stake out is commenced.
Once the foundation walls and footing is exposed, the wall is washed down to allow a proper bond for the concrete parge
All cracks, voids in the foundation is compacted with hydraulic cement and the entire wall surface is given a layer of concrete parging
A RUBBER BITUTHANE MEMBRANE is applied to the foundation wall covering down, over the footing
A DELTA MS, plastic drainage mat is applied to the foundation wall, down to the footing level
New weeping tile is installed and connected to the appropriate drainage point and surrounded in clean ¾" gravel
All soil is backfilled and compacted to prevent future settlement
All debris are removed from the site
Any finished surface material is re-installed, such as concrete, asphalt, interlocking stone etc.